Judy Shaw's Report from the Guy & Ralna Alaskan Cruise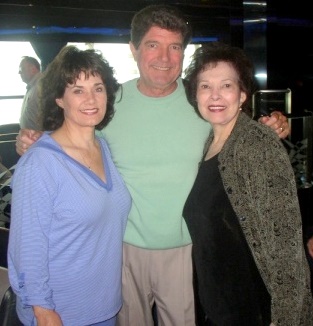 I left my home on Saturday morning (out of Memphis, TN) and flew to Detroit and then changed planes (remember my complaints on that routing?). After I got to Seattle, I was missing one of my two checked bags so that wasn't a very good welcoming. Also, the route for getting my bags and myself to where the hotel shuttle van could pick me up was not one for those weak of heart. I had such a load (even with one bag missing) and had to go up an elevator, across a skywalk, down an elevator, to the street, find the phone board and call my motel and then wait - and I might add - that was in about 55 degree temps. After I got to my hotel, I learned that several WelkNoters had already been there looking for me so that was nice. Evelyn F., Carol D., Betty S., and Beth L. (who is a Seattle area WelkNoter) met up with me in the Lobby. We decided to have a late lunch/early dinner in the hotel area downstairs and it was really nice to have that time to visit. Afterwards, they came up to my room and we visited some more but then we had to start "dealing with" my lost piece of luggage (That's another whole story). It was quite an ordeal but after a lot of hassles, Beth took me back over to the airport to pick up my missing piece, which had arrived by then - only to learn that an airline courier had already picked it up for delivery to me. So we had to wait for him to come back by before I could get it. By this time, I was almost ready to forget the cruise and go back to the airport and come home. I was tired, cold, cranky, and wondering what was wrong with the world

.
The next morning (Sunday), I had to retrace my steps BACK to the airport - through all of the mazes and unnecessary steps and then additonal steps (miles) to the bus. Then, once the bus got to the dock, there was more walking - through winding lanes of lines - to the next window - to the next building - through that door - go out that way - and on and on. THEN, it was up the ramp to the ship.....UPHILL all the way. Again, I was thinking that maybe I should just turn around and run.
By time I got to the inside of the ship, I think I was on about the 6th or 7th level (floor) - that was a lot of UPHILL in my book.
I eventually got to my cabin, which was on the 9th level. Shortly, our steward, named BOGDAN came in to introduce himself. He was from Romania and was a really great guy and steward. He made up our beds and cleaned/picked up each morning. In the evening, he came in (never when we were there) and turned down our beds and put a chocolate on each one.
About an hour or so after I arrived in my assigned stateroom, my cabinmate, Linda C. arrived to find that I had already selected the choice bed, and hogged all (most) of the closet space and shelves in the bathroom. Our room was nice and comfortable and we had a good sized window to look through. Several of the pictures in my Album were taken through the window. Now........ the bathroom was something else: to change clothes in it, you had to leave the door open and stick
1-1/2 legs out the door. But it was adequate.
Most of the WelkNoters seemed to be in close proximity except for Evelyn and Carol, who had been upgraded by the cruise line to a balcony room (at no extra charge) on a different level. Besides the WelkNoters, Ralna had the suite at the end of our floor and Guy and Sis had the suite immediately next to Ralna. I did get to "check out" Ralna's suite - and my word - it was nice. There was a marble entry hall, a kingsize bed, a walk-in closet, a bar, a bathtub, a small livingroom area and a very nice sized balcony that looked out the very back of the boat - what a nice view.
Ralna's family members' cabins were also down in our area so we frequently were running in to all of them as we (or they) came and went. Personally speaking, I was so thrilled to see and visit some with Jane and Sharon, Ralna's sisters. If you recall "My History with Guy and Ralna" that I wrote, those sisters were in my life many years ago and Jane, in particular, played quite a part in helping me to meet Guy and Ralna the first time.
Now............the elevators. Maybe I shouldn't even talk about them. They were horrendous. That says it all. You could not go from 1 - 14. After spending a week with them, I still can't tell you what you could do - I just know that I was never on the correct elevator. Even if you goofed and were trying to go to level 6 and you could only get down to level 7 - one would think that you could get off and walk down one flight. NOT!!! There would be no stairway there. So..................I just encouraged the other girls to pull me around on a rope all week - wherever they led me, I went. In all fairness, I will add that someone told me after I got home that they had heard that other ships have that same crazy elevator system.
The ship itself was very nice. It had an elegant feel to it. There were two very nice theaters - one at each end of the ship and at night, there was always something going on in each of them. There was also a gambling Casino onboard (which could only operate in open waters). We had at least two formal dining rooms and several smaller eating places such as a pizza restaurant. On the top level (14th floor) was the Horizon Court restaurant and it was buffet style and open 24-7. When eating there, you could sit and look directly out at the water. That's where I think I spotted the antenna for the ships web cam. All of the food was wonderful - even if I wasn't always sure what I was going to get. A lot of it was Italian as I guess they had an Italian kitchen crew but not sure about that. We had 5 courses every meal and most of the meals took about 1 3/4 to 2 hrs. to be served in high style and to eat. We could also order from the room service menu around the clock and yours truly kept them hopping with my constant requests for "a large pot of coffee, please." Linda C. discovered the room service late in the week but still got "hooked" on the caramel flans that they would bring and was ordering them two at a time (and that was for JUST her). Just to mention a few of the most favorite things I ate: Prime Rib, Alaskan King Crab, Shrimp cocktail, crab quiche, fresh fruit (especially the fresh pineapple and honeydew), sirloin steak(s), salmon, and on and on.
There was tons to do on the ship. There were movies, backstage tour, kitchen tour, swimming, internet room (for a charge), a spa, champagne party, Bingo, Casino, shopping on the ship, Karaoke, Games (i.e. Name that Tune, Liar Liar, etc) and even country line dancing lessons. There were about 50 times more things to do then I just mentioned - suffice it to say, that there is no way you could be bored. The production shows were mostly in the Princess Theater and they used the same 17 dancers/entertainers and 20 band members nightly. I think they did at least 4 different production numbers and I will never understand how those young people could remember each show (music, dance movements and costume changes) when they only did it once a week - they were superb!!!!!!!
There were stops at three ports - Ketchikan, Juneau and Skagway. There were many shore excursions to select from (for a charge) in each port and most of our group took great advantage of many of the tours and enjoyed themselves immensely. As for myself, I only went on the White Pass Rail Trip on Thursday. It lasted about 4 hrs. and afforded some of the prettiest scenery you could imagine. The "train guide" told us a lot of history as we went along about what we were seeing and it was all very interesting. He also pointed out 3 bears (I only saw one and he was sooooooooooo cute) and mountain goats. I did bring home a book about the train ride if anyone has any questions - I can check my little "cheat" book. I definitely enjoyed the scenery as we traveled the Inside Passage. It seemed to me that the mountains and surrounding land was so untouched by man. We are not used to seeing that (or at least I'm not) here in the lower 48.
After our 3 port stops, we came home a different way - out into the ocean this time. I could then definitely feel a "roll" to the boat - especially Friday morning. The water was beautiful and I could even see a few fish in the water from my room's window. The weather remained quite cool (maybe in the high 40's to high 50's) most of the trip. It got dark very late - still being twilight at 1030pm at night.
Now to tell you about the GUY & RALNA show and Ralna's Birthday Bash on Monday afternoon. Coming into the theater (the Vista Lounge), each person was given a little "souvenier" from Ralna. The ladies received a red tennis visor that says "Ralna's Birthday Bash" Alaska 2007. The men received a pen that said the same thing. The show itself was FANTABULOUS. Whenever I see Guy and Ralna perform, I seem to sit there in some sort of "suspended in space" time warp - in awe - I think the room could catch fire and I would still be sitting there with this silly grin plastered on my face

. They seem to have a hypnotizing affect on me with their beautiful voices and presence. This show was no different. I do think that having family members and special friends in the audience seemed to highten the quality of their performance, if you can imagine that.
After the show, Guy and Ralna signed autographs and then the kitchen brought out two gorgeous birthday cakes for Ralna (I put pictures of them in my Cruise album). Everyone enjoyed the yummy cake and many enjoyed an hour of open Bar. Ralna and all of her family as well as Guy and his family were there to visit with everyone and for picture taking. However, it all had to end after about an hour because most of them had assigned early seating in their diningroom so they had to leave.
Most of the WelkNoters (but not all) had Open Dining which meant we could eat the dinner meal any time between 5:30 and 10:00pm. And of course, if you missed that, you had many other options, including the 24-7 Horizon Court Restaurant on the top level.
The WelkNotes Get-together was on Saturday at noontime. Originally, this was to be WelkNoters only and I had no idea that any of the performers would be available to attend. As it turned out, Ralna came, Guy and wife Sis came, Guy's sister Joye came, and Ralna's two sisters, Sharon and Jane came. Additionally, Ken Delo honored us with his presence. Now my goodness - what more could we ask for? The stars came after we had spent about 20 mins. on a Trivia game and also door prizes. Martha U. won the Trivia game. We had 11 door prizes of various Welk gifts. I thought the most special ones were Ralna's CD of "From My Heart" as well as the DVD of the same. The "biggie" door prize was the necklace that was a pledge gift for the "Milestones and Memories" PBS Special which was worn during that Special by the female performers. Ralna donated her very own worn/used necklace as a Door Prize and it was won by WelkNoter Joan Brown (I included a picture of Joan and her necklace in my Cruise album). Additionally, Ralna gave "Ralna's Birthday Bash" writing pens to everyone there. A WelkNotes souvenir was a musical motif notepad. Also, WelkNoter Verda made lovely Guy and Ralna bookmarks for everyone present.
All of the performers started off at the Get-Together by allowing questions to be asked of any of them. Interesting enough, I think Ralna's sister, Jane, asked the most questions - hmmmmmmmmm. Then there was picture taking and all of them were so gracious and patient with us. THANKS TO YOU, THE STARS and your family members for honoring us with your presence!! During the party, we did present Ralna with a birthday card and "special gift" (donation to her favorite charity, CHILDHELP in honor of her 65th birthday) and she was very appreciative.
Now.............Sheryl asked about the cruise ship's daily newsletter, the Pitter Patter. Sheryl also asked about names being on the cabin doors. The names of the people in the cabin were to the right of our doors. Above that was a clear plastic "mailbox." Usually in the evenings, when we would come in from our nightly "excursions," our mailbox would be full of goodies - always a Pitter Patter (the newsletter) and sometimes other useful information, such as sales going on in the ship's stores or special offers at the Spa (teeth whitening special, etc), or useful information about disembarkation. The Pitter Patter was chuck full of great info and usually would feature the next port of call. Each issue contained a column titled: FROM THE NAVIGATOR which told the route of the ship. Here is an example printed on Tuesday Jun 19th:
"In the early hours of this morning the vessel entered Alaskan waters and proceeded on northerly courses towards Twin Island. As the vessel neared Twin Island the ships speed was reduced and our Alaskan Pilot was boarded. The Sun Princess was then navigated on course between Bold Island and Annette Island through the Tongass Narrows towards our port in Ketchikan. The Sun Princess will depart Alaska's first city of Ketchikan this afternoon and set northerly courses towards Tracy Arm."
Now - I would never know that we picked up a "pinch-hitting" ship pilot if I hadn't read it in the Pitter Patter. Whenever we were coming into a port city, the previous night's Pitter Patter would also contain an added section with that port's map and store listings and other useful information. It was quite informative.
I learned a lesson: which was to read the Pitter Patter the evening it was delivered as I failed to do so one time and MISSED the Mexican Buffet the next day
.
Upon our return to Seattle, there was quite an amazing disembarkation process. Everyone was given color coded tags for their luggage and the sound system announced which colors were next to disembark. It was accomplished in a very orderly fashion. And it's a good thing it went smoothly because the crew was already stripping linens and cleaning rooms of those who were the first off the ship, readying the cabins for the 'new' passengers. They were also changing the names on the doors which made us feel very much displaced

. To think that a brand new group of 2,000 passengers would be onboard in just a few hours was mind-boggling.
As most of the Cruising WelkNoters have mentioned, even though we all had fun - we all came home extremely tired. I stayed tired for at least a week (I also felt like I was still on the ship for about 4 days - I kept 'bracing myself' standing in my home - but didn't need to be). And believe it or not, although I can't speak for anyone else, I did not gain any weight (even though I was eating 5 course meals at least twice daily) on the cruise - because I walked MILES AND MILES trying to get around the ship (specifically, to the dining halls to eat - go figure). That sure says something about my usual lethargic lifestyle at home, doesn't it?
To view my Cruise pictures, go to http://www.welknotes.com/alaska/judyshaw
(click picture(s) to enlarge or start slideshow)

If you would like information about joining our WelkNotes group, go to http://tv.groups.yahoo.com/group/WelkNotes/

To return to our main page to be directed to other WelkNotes links, go to http://www.welknotes.com/